How to effectively use social media for your Salon Business
An average internet user spends 2 hours and 25 minutes on social media, and time spent is only increasing. Marketing for a salon is highly dependent on visual appeal. Social media can be a boon for salons as they are free, visuals focused, and reach thousands of potential customers. Whether you are a single location or multi-location salon, a good social media presence can be vastly beneficial.
But today, there are a large number of social media platforms out there making it hard for new businesses to understand how to approach it. When you get started with social media marketing for Salon, all channels may look similar at first glance, but they have distinct audiences with different expectations. So if not budgeted or planned properly, social media can eat your marketing budget in a short time. This article will help you leverage social media for your salon to obtain at best possible results for every bit of cash spent.
Identifying Your Potential Clients
Identifying your niche and knowing your client's persona is an important first step in crafting your social media marketing strategy. Next would be designing on communication strategy, selecting keywords and hashtags for each segment of clientele. You may also use local nano influencers to advance your reach to potential audiences much quicker.
Setting Up Social Media Strategy For Your Salon
Social media has 4.33 billion users worldwide with annual growth of 13.7%, and among social media, Facebook has humongous 2.797 billion users. That makes Facebook an attractive proposition, and it is a no-brainer that it should be your first and major step toward social media strategy. Instagram is another great platform that has proven to be a very effective medium for salon marketing.
Uploading videos on YouTube is also a great way to promote your salon, but professional-looking video editing and other formalities can be a tedious job. 61% of U.S. teens use Snapchat, so if your target audience is U.S. teens, that is your ideal platform. Similarly, use Twitter, Pinterest, or even Tik Tok wherever your target audience is.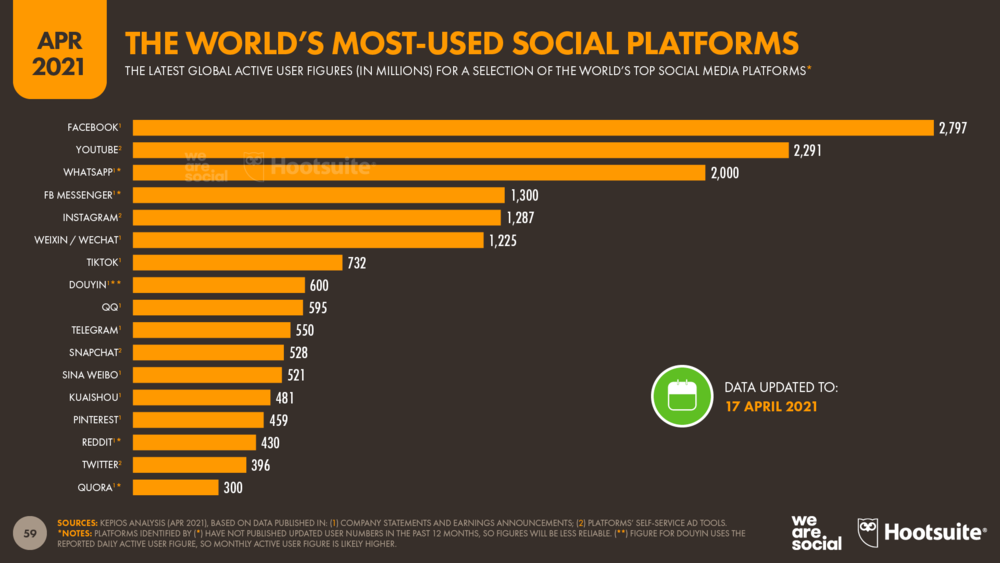 Build Digital Infrastructure To Support Your Social Media Goal
As we know, salon marketing heavily depends on visual appeal, so first and foremost, you will need to have graphics tools to create/edit visually stunning images. And if you plan to upload videos, you need to have video capturing, mastering/editing tools to create professional-looking clips. Content creators on most of the platforms produce high-quality content. While sharing organic posts or paid advertisements, your creative material is expected to be better or at par content for the respective platform. In addition, when your business scales up, you will need to have a post scheduling software such as Buffer, Hootsuite or Crowdfire.
It might become necessary for you to integrate a CRM module to access, track and respond to your marketing metrics. It is a good practice to use cloud-based services such as Google. You also might like to use SEO tools to align your posts with prevailing social media trends and insights. Some of the best SEO tools include BuzzSumo($99-499/mo), SEMrush($119 – $445/mo), or Feedly (Free). Additionally, you might need to have an online appointment scheduling tool as well.
Effectively Use Social Media To Grow Your Customer Base
You need to work out how many times you can post content every month consistently on what frequency. It is also a good idea for you to respond to every comment on your posts/page, entertain inquiries on the chat box, make good use of the CTA button to point clients to appropriate landing pages.
Use Facebook Advertising
When running paid Facebook ads, make sure you are taking expert help as Facebook can target the audience very accurately when filters are selected with expertise. Another thing to be aware of is that you should not fully utilize your whole budget in one or two campaigns. Throttle your budget in such a way that you can run campaigns consistently to have a presence all the time. Make full use of the Facebook AI chatbot.
Maximize Your Instagram Presence
Instagram is especially good at creating brand identity. Instagram also has a nifty feature of the marketplace. You should make full use of it. For more impact, you can run campaigns on both Facebook and Instagram parallelly.
Leverage Snapchat, Twitter, Youtube, Quora, and Pinterest To Expand Your Presence
In addition to the above two, there are other social media platforms with distinct audiences that include Snapchat, Twitter, Youtube, Quora, and Pinterest. Maintaining a presence on these platforms as it helps building a homogeneous online presence that caters to different segments.
Final Thoughts
It is very easy and free to start marketing on Social Media for Salon. You only need to make your IDs and start posting. But when you start enhancing your digital presence through paid advertising, optimizing your content stack for each platform, things turn clumsy. When engaging on a different platform, even the same person expects content to be localized for that channel's USP.
For example, suppose a person, when visiting your Instagram page, will have different expectations than visiting your Twitter profile. Prefer using your own images; if not, then try to use only good quality stock images. Hopefully, this article will help you out in designing your social media strategy for your salon.