Content
What is NFT?
NFT Stands For Non-Fungible Token, Where in simple words "Fungible" means "Replaceable". And Non-Fungible Means "Not Replaceable" and Token is a unique number on the entire internet NFT is just a smart contract which is unique and can not be duplicated. It can be a single NFT in a collection or multiple NFTs in a collection.
Difference Between Fungible Token vs Non Fungible Token
Difference between a Fungible Token and a Non Fungible Token is that a fungible token can be divided into small parts and carry all the character traits of the original and can replaced by another identical item. The Example would be the difference between Ethereum and a piece of art or a house. Ethereum can be divided and still be similar and usable like the original whole unit, if a art of house is divided it's nothing like the sum of its parts. You can't exchange one house for another because none of those two are the same.
Reason Why Art NFT is getting so much attention
There are a lot of people thinking, Why Art NFT is getting too much attention? recently, it is just because some artists are now realizing that art NFT allow them to access into the internet in any country to get their art creations in front of people and allow other artists and collectors and NFT community to support it directly.
There is no particular or specific way of creating art because it depends on the artist, None of the creation can be done without action, so it is important to take action in order to create artwork
Scope Of NFT For Creators & Artist.
NFTs are life-changing for artists and content creators. All creators & artists can sell their works or arts directly to a global community. This new business model cuts out most of the distributors (who typically receive a commission) and lets artists & creators deal directly and easily with the customers through marketplaces like OpenSea.
Artists Beeple and Trevor Jones have made millions on their NFT sales. Musicians like 3LAU are designing business models where fans can access exclusive music and tickets to events.
Wait, what about content creators like Podcasters, Authors & YouTubers?
Some content creators could mint an NFT for every separate deliverable (Tickets, Merchandise Discount & Insider access etc.,
If you're a podcaster, you can sell an NFT that creates access to your exclusive shows. If you are an author, it could be a book or E-book. A YouTuber could sell a membership package. A writer could theoretically sell the rights to their articles. Otherwise, it operates more like supporting me and owning part of my blog.
What is Physical NFT? And How Physical NFT Works?
A physical NFT (Non-Fungible Token) is a token that represents a physical artwork. It can be sold like normal NFT and along with that, you will receive the physical artwork.
Let's take an example to understand better.
Mr Joe is a painter based in Paris. He makes one painting every week and sells it at a monthly art exhibition auction event. Most of the time his paintings are getting sold but he faces some issues such as limited reach and it is also getting sold at a lower price sometimes,
How NFT can help Mr. Joe to overcome this situation?
First, Mr joe can create NFT of his paintings on Marketplaces such as OpenSea and Binance and he can associate it with his physical paintings while creating an NFT he can also opt for 5% – 10% royalty as being a creator. Through this, he will also be able to receive the royalty amount on his wallet every time that NFT will be traded in the future.
By using these marketplaces Mr. Joe receives access to a much larger audience in terms of reach and he can get paid a suitable amount for his paintings along with 10% Royalty each time that particular painting is traded on the secondary market.
There is a major advantage for buyers as well as they can prove the authenticity of the painting through NFT and it minimization the chances of ownership as the fake painting will not carry any value without the authentication of NFT.
In this article, you can understand in-depth how physical NFT & NFT are associated and how they can be sold, and how NFT represents Physical NFT.
Physical NFTs are the perfect choice for the smooth trading of assets that are illiquid in nature. It has proven to be a futuristic sector.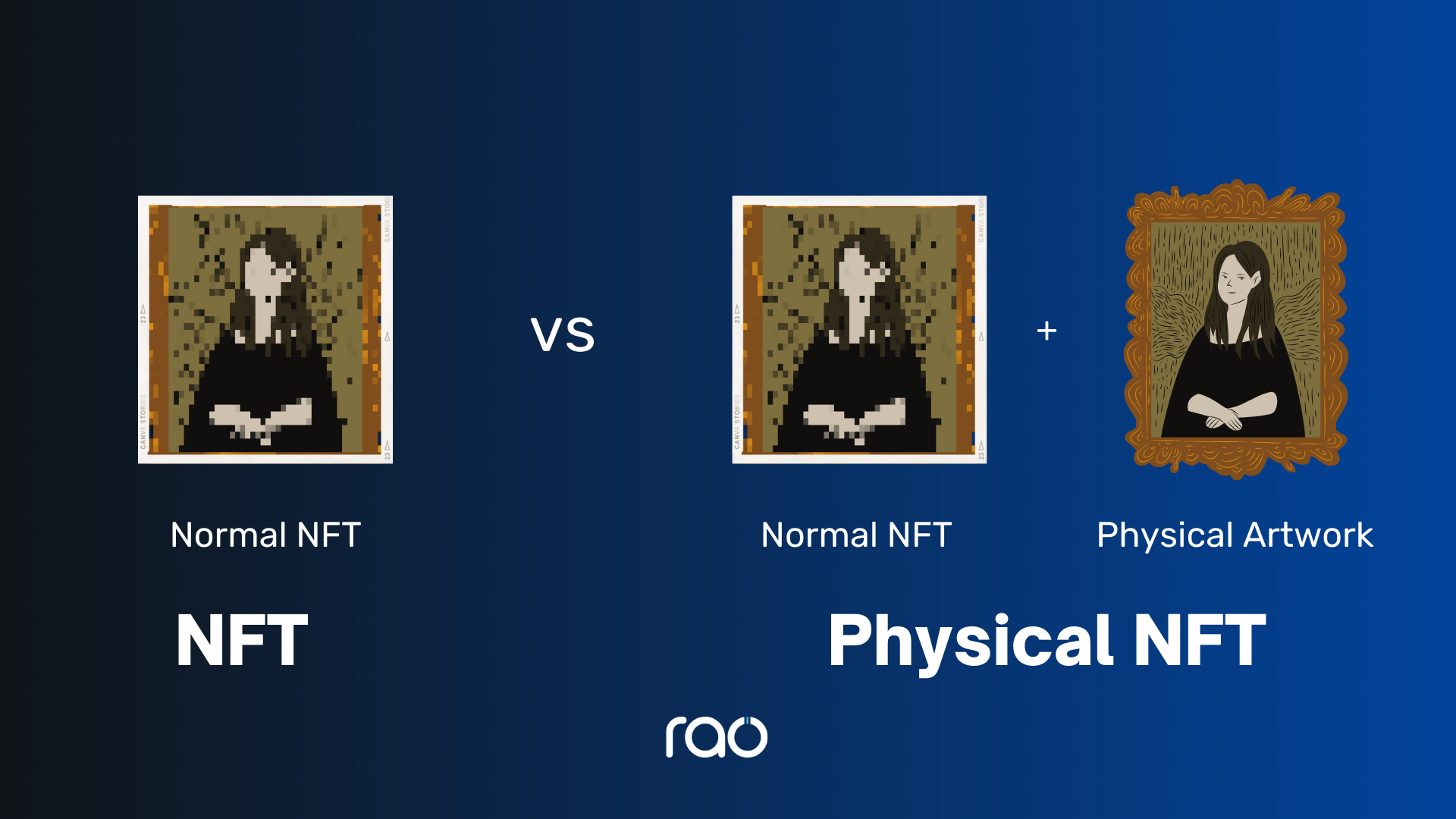 How To Create an NFT?
Creating an NFT is easy as eating a cupcake. There are many NFT marketplaces such as OpenSea, Rarible, Binance etc.,
Below Guide will help you to create your own NFT Collection,
OpenSea is quite a famous and easy to use platform, here is the step-by-step guide for creating your first NFT with OpenSea
Setting up your first NFT collection in OpenSea
From your OpenSea Account Goto your profile section, and click the "Create" button
You'll be redirected to the NFT creation page. Here you can upload your NFT Filename, Description,
After filling those fields, you can customize your NFT further. You can do things such as placing it in an existing collection or adding properties, levels, stats, and even unlockable content.
You can also select which blockchain you wish to mint your NFT with. In this article you can understand what type of blockchain OpenSea Support.
Hence, you're done customizing your NFT, click "Create",
Congratulations !! You have created your First NFT,
Now, Let's learn how you can sell your NFT.
How to sell an NFT?
From OpenSea, select your profile image in the top right corner and then click Profile.
Select the NFT you would like to sell from your wallet.
Click Sell on the top right to be taken to the listing page.
You'll be redirected to the listing page, where you can choose the price and type of sale.
A fixed Price sale is one where the price is fixed.
In the screenshot below, the price is fixed at 1 Ethereum.
You can also choose a duration for the sale,
The default options are 1 day, 3 days, or 1 week Or custom duration using the calendar.
You can also create the bundle of NFTs from different collections,
You can also reserve the item for a specific buyer.
For that, Simply paste their address into the field below Reserve for a specific buyer.
You'll see the potential fees from the sale listed at the bottom,
In this case, this sale includes OpenSea's Service Fee of 2.5% and a Creator Earnings of 10%, for a total of 12.5%,
Which is the highest percentage that can be deducted from an NFT sale on OpenSea.
Then, You will be asked to confirm your sale by signing a transaction,
Note: if you've never sold on OpenSea before, you'll need to initialize your wallet first. Also, if the item you are listing was not minted on OpenSea but through a custom contract, you will need additional approval and signature required to allow OpenSea to trade the item.
After Completing Listing,
You will get a pop-up confirmation like below.
Has this article helped you to understand "how to create and sell NFTs"? If yes! then share it with your friends.

Read More : How Metaverse can be useful in Digital Marketing?